AMICE CONGRESS
The AMICE Congress is a unique gathering of CEOs and senior management from Europe's mutual and cooperative insurance community. Delegates include key figures from economic and political circles and senior executives from trade associations, civil society groups and other financial institutions, resulting in an exceptional conference of industry leaders and influencers.

The eighth AMICE Congress took place between 08-10 June 2022 in Wiesbaden and Mainz, Germany. Previous events have been held in Stockholm, Ghent, Nice, Gdansk, Genoa, Helsinki and online.
The next edition of the AMICE Congress will take place in 2024 in Bilbao, Spain. More information will follow.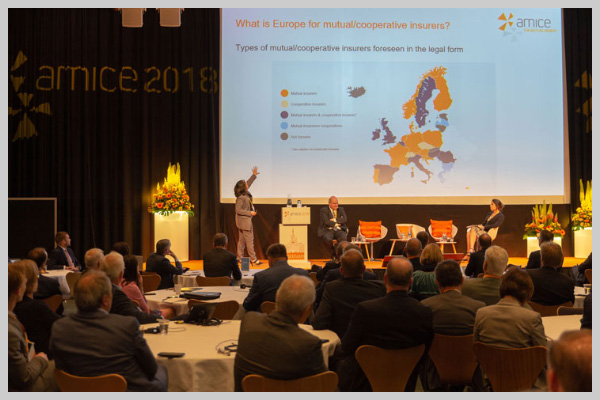 ABOUT AMICE
AMICE is the voice of the mutual and cooperative insurance sector in Europe.
The Association of Mutual Insurers and Insurance Cooperatives in Europe (AMICE) advocates for appropriate and fair treatment of all mutual and cooperatives insurers in a European Single Market.
We were delighted that the AMICE Congress returned as an in-person event in 2022. This 8th AMICE Congress was a particularly special event as we also celebrated the centenary of the Congress host for this edition, R+V.
The AMICE Congress is the leading European mutual/cooperative insurance industry event, a trusted platform bringing colleagues together from across Europe. This year it was especially important for us to meet once again face-to-face, to reconnect and renew our acquaintances, and to discuss the challenges facing our industry.
Our theme was "The Art of Resilience". We explored the challenge and opportunities of bouncing forward, and examined the enduring resilience of the mutual model.
WHY ATTEND?
The AMICE Congress provides a mixture of high-level and practical conference sessions. It is the most important event at which European mutual and cooperative insurers, their trading partners and EU policymakers congregate to discuss the latest regulatory, legislative and international developments that are likely to affect their business.
CONNECT
AMICE's Congress is a unique place to share ideas and engage with mutual and cooperative insurer peers from across Europe. Reconnect with your network.
LISTEN
Hear from respected industry experts and European leaders as they debate the future, discuss best practice, and share their insights.
LEARN
Come away from the AMICE Congress energised and with new ideas, tools and connections to drive better business outcomes.
WHAT OUR DELEGATES SAY
Congress 2014
"Many nationalities and companies of a different size are found in AMICE. This wide diversity generates lively and interesting discussions. Each company is impacted very differently by Solvency II."
Anna Morales Ballus
Mutual Medica, Spain
Congress 2016
"For me the Congress is very interesting as most of my members are very small and are not up to date on innovation processes.
It is good to see how other mutuals behave and I hope to use this to convince my members to get into the new world."
Monika Köstlin
Verband der Versicherungsvereine auf Gegenseitigkeit e.V., Germany
Congress 2018
"The Congress is a good opportunity for members to share real, concrete examples and experiences. This is so much more valuable than institutional presentations."
Serge Jacobs
Ethias, Belgium
OUR HOST


R+V is one of the largest insurers in Germany and part of the
Volksbanken Raiffeisenbanken cooperative financial network.